Work "Où sont nos souvenirs rangés?"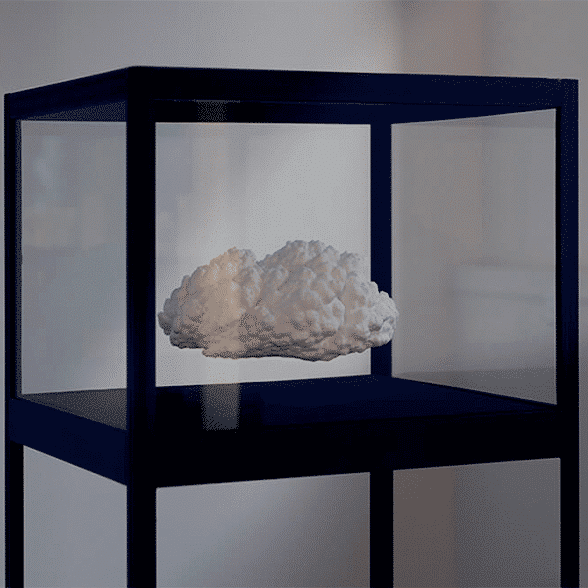 © Powder 3D printing
INITIAL X VINCENT FOURNIER
The ghosts of the living
In a glass box that resembles a scientific cabinet, a cloud floats in a suspended state, as if trapped in a cage.
"Où sont nos souvenirs rangés" (where are our stored memories) is an ironic allusion to the Cloud, which allows increasing quantities of information to be stored on the internet.
This work forms part of an ongoing project entitled "Les Fantômes du Vivant" (Phantasms of the Living), which offers a vision of invisible, natural and supernatural, forces inspired by the "wonder of science" and technology.
It explores the relationships and the increasingly porous boundaries between the rational and irrational.

Powder 3D printing
The cloud was created by Initial by 3D printing using powder sintering with a highly realistic rendering of the details and relief.
It levitates using an electromagnetic field system, the technical workings of which are concealed both inside the cloud and in the depth of the base.

INSPIRATION

The project is inspired by the work of the philosopher Henri Bergson and his speech in 1913, on accepting the Presidency of the Society for Psychical Research, which would later become the Society of Psychology.
"Les Fantômes du Vivant" is the name of the research conducted in 1886 by this society, which lists more than 700 testimonies of phenomena of mind over matter.
At the end of this conference, Bergson would propose a uchronic narrative where the order of emergence of knowledge in our society is reversed: first psychic sciences and then physical sciences.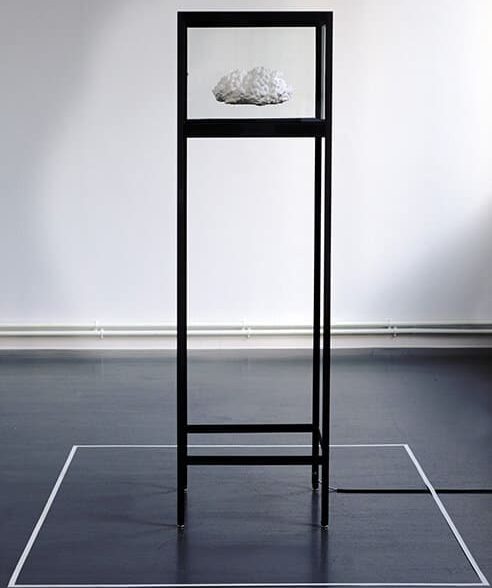 © powder 3D printing
Vincent FOURNIER
Vincent Fournier's images invite us to reflect on the evolution of our world and the way in which we perceive time. Having grown up with "the end of history" and living in an eternal present, his images question our past and future utopias… What expectations do we have for our future and is the future already the past?
In these imaginary archives, memory works in both directions – or as the White Queen says in Alice in Wonderland: in the past, as well as in the future.
A world in which you remember what has not happened yet – what will happen tomorrow.
His founding project is Space Project, a genuine global tour of the most emblematic places in space exploration, which have aroused the fantasies and most ardent hopes of an entire generation.
Artificial intelligence and robotics will be a whole new playing field, with a uchronic perspective of humanoid robots and dialogues, tinged with humour, between man and his cybernetic double.
His most recent work Post Natural History poses the question of possible changes to living beings by technology and, in particular, biological engineering.
Although photography remains his preferred medium, 3D printing, films and installations sometimes accompany certain projects.
Vincent FOURNIER
Biography
Vincent Fournier is a French artist born in Ouagadougou in 1970. His childhood was filled with science fiction films and great utopian stories. After graduating in sociology and visual arts, he went on to study at the École Nationale de la Photographie in Arles and obtained his diploma in 1997.
After working as a creative director and photographer in the field of advertising and cinema for a number of years, he left to travel around the world in 2004.
It was then that he produced his first collection, Tour Operator, which would lay the foundations of his photographic style: playing with scale, architectural composition using a scalpel, the beauty of precision, mastery of natural light, an interest in paradoxical situations combining tension with irony…
Moving from a documentary style to increasingly staged images, he explores fiction as a number of parallel realities.
His work offers a journey into some of the 20th and 21st centuries' most representative utopias: the space adventure, futuristic architecture, artificial intelligence, etc.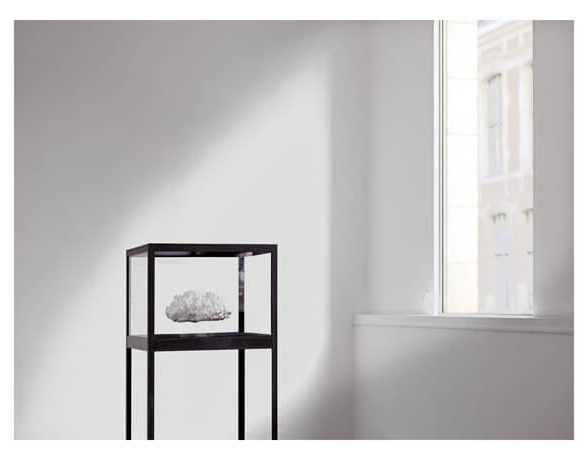 © powder 3D printing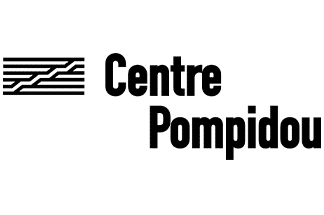 15 March to 3 July 2017
Imprimer le monde
Group exhibition, Paris, France/Pompidou Centre Galerie Mnam/cci